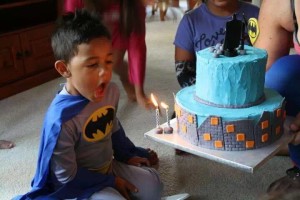 I made this neat Batman themed cake for  Levi`s 4th Birthday a wee while back and his Mum Sarah was going through the pictures of his party at the weekend and sent this great shot in to me through my Facebook page.
An awesome big party where all  the guests dressed up as their favourite super hero,even the adults, how neat is that!
Thanks very much Sarah I love the photo, I`m so glad you all loved the cake as much as little Levi, and I am very much looking forward to creating that possible Frozen themed cake with you next month also.
I really do have the most fabulous clients x