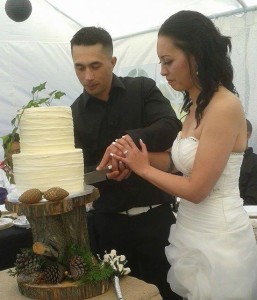 Its with great pleasure I also get to show off another beautiful shot with you all.
Taken this Queens Birthday Weekend at my fabulous customer Moera`s Wedding, at the cutting of the cake ceremony.
Just one day after the Wedding, which I was so happy with, as Moera sent me a photo on Friday while I was creating her beautiful vintage style wedding cake, of this fabulous stand, which she made herself, and all I can say is I LOVED IT and was very excited to see it all set up.
I love this style so much and when I saw what she was going to place the cake on to, I won`t lie, I so so so wanted to see the photo`s hahaha!
On delivery I also got a huge hug from one of the gorgeous little flower girls which totally melted my heart WOW I LOVE MY JOB.
So hugest thanks Moera and James for sharing this photo with us all and have an amazing Honeymoon!